Write Your Member of Congress
Through SGAP's parent company, National Write Your Congressman, you can use the Constituent Opinion Ballot to write your members of congress about key legislation underway. NWYC provides small businesses with nonpartisan information and research on top issues and pending legislation in Congress.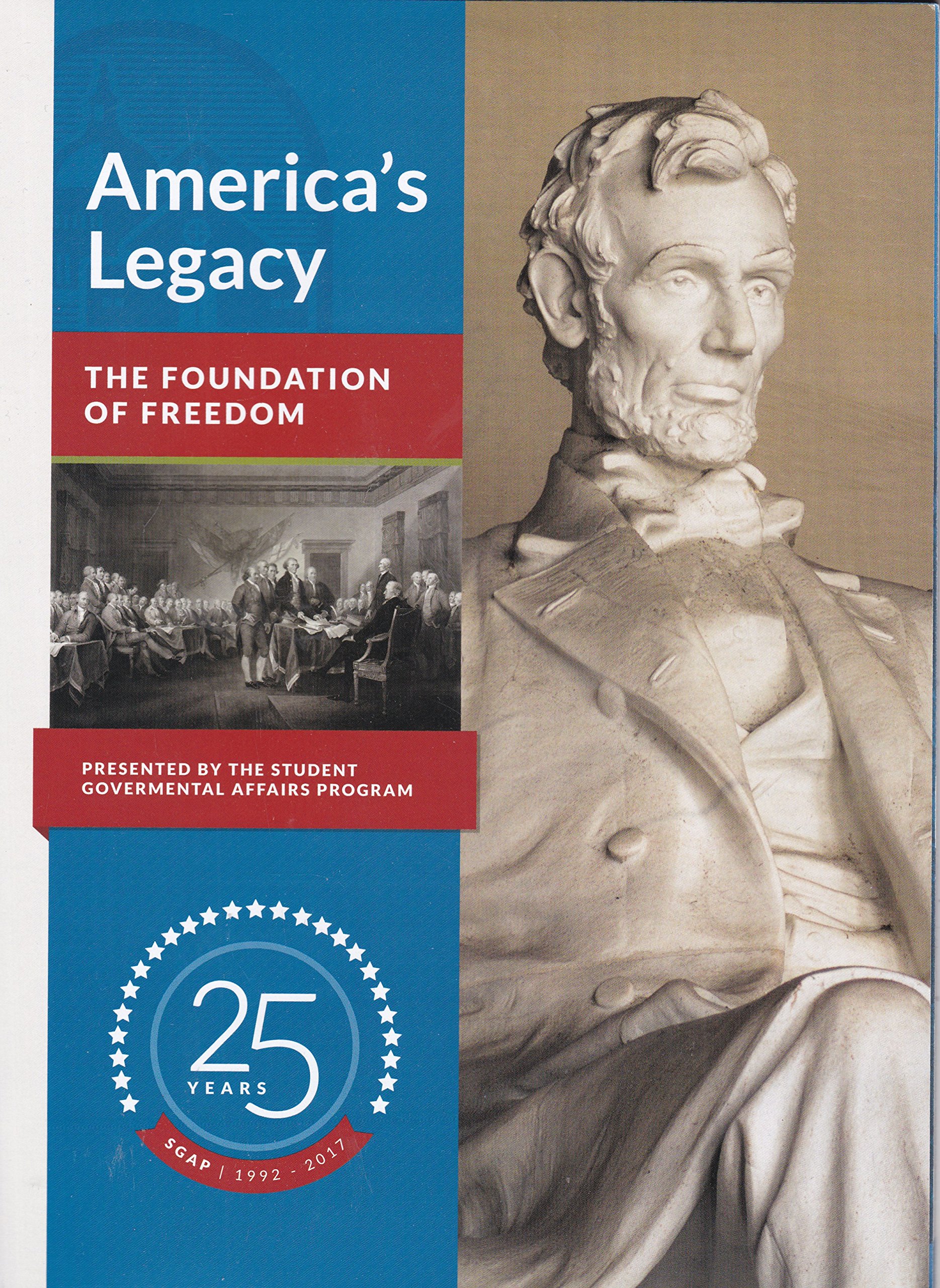 America's Legacy Book
The Foundation of Freedom
Written for middle and high school students, the new "America's Legacy" book focuses on the text and history of the United States' Founding Documents, including the Constitution, Bill of Rights and Declaration of Independence. Additional sections cover the elements of citizenship (how to be a good American citizen); the three branches of government and separation of powers; and excerpts from great American speeches. Interesting "Freedom Facts" and SGAP infographics are included throughout the book.
Established by National Write Your Congressman in 1992, the Student Governmental Affairs Program is a national nonprofit organization headquartered near Dallas, Texas. SGAP brings U.S. government and civics to life through a monthly newsletter that educates K-12 students about current legislation in Congress, presents pro/con perspectives from both sides of the aisle, and asks them to vote on the issues. SGAP supplements classroom instruction with nonpartisan educational materials that teach responsible citizenship through active participation. SGAP's civics educational program is received by students in all 50 states and D.C., with about four million students having participated since its inception.
In 2019, SGAP received an Honorable Mention in the National Category for the American Civic Collaboration Awards ("Civvys"). Developed by the Bridge Alliance Education Fund, Big Tent Nation, and the National Conference on Citizenship in 2017, the Civvys Awards are among the most high-profile and visible aspects of the civic renewal movement.
"Thank you for this program. It is very helpful for AP Government and Economics Honors and Standard levels. Once I get them hooked, the students ask when is the next one coming?"
Educator in Sanford, FL
"I give the America's Legacy books to each of my AP Government students as a reward for taking and completing the class. It is something that students have come back years later showing me their copy explaining how helpful it was in their college classes."
Educator in Prosper, TX
"One of our main goals at DISD is to build civic literacy among our students and build good citizens. Your program teaches them critical thinking, civil discourse, and other skills they will need after they graduate. SGAP is an extension of the social studies standards and provides great information."
Social Studies Instructional Coordinator, Dallas Independent School District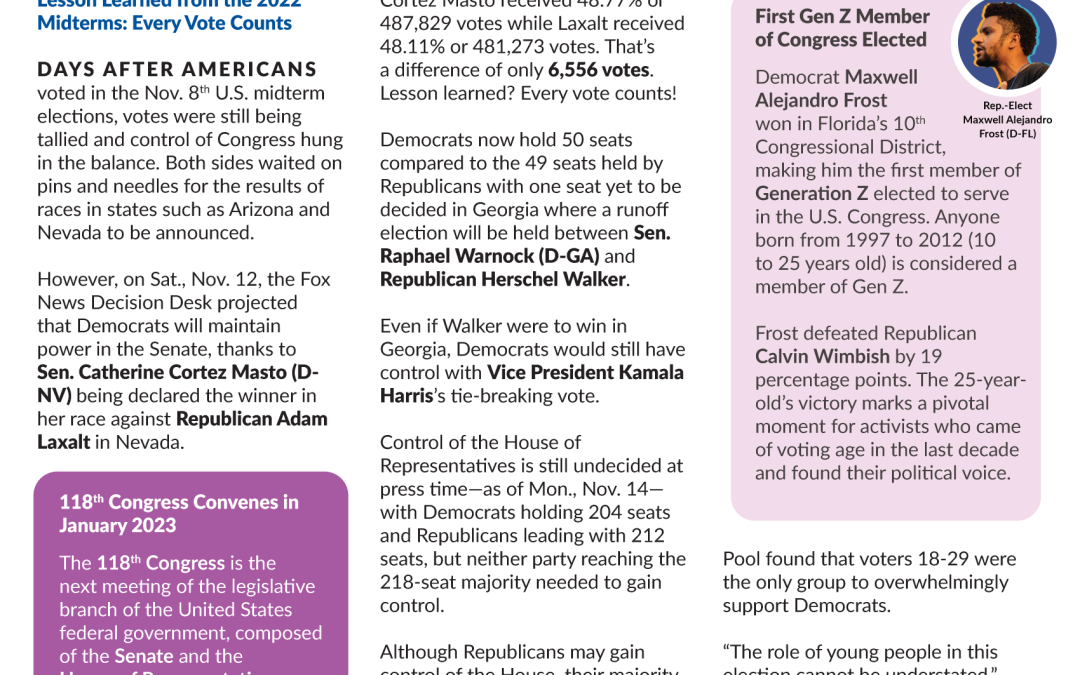 2022 Midterm Elections: Red Wave Turns into Mix of Red and Blue; Dems Keep Senate; Control of House a Toss-Up at Press Time
DAYS AFTER AMERICANS voted in the Nov. 8th U.S. midterm elections, votes were still being tallied and control of Congress hung in the balance. Both sides waited on pins and needles for the results of races in states such as Arizona and Nevada to be announced.
However, on Sat., Nov. 12, the Fox News Decision Desk projected that Democrats will maintain power in the Senate, thanks to Sen. Catherine Cortez Masto (D-NV) being declared the winner in her race against Republican Adam Laxalt in Nevada.
Cortez Masto received 48.77% or 487,829 votes while Laxalt received 48.11% or 481,273 votes. That's a difference of only 6,556 votes. Lesson learned? Every vote counts!
read more