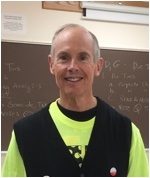 Vital Stats
Name: Dan Cappleman
School Name: St. Pius X High School
City, State: Albuquerque, NM
Subjects Taught: American Government and Economics; AP U.S. Government and Politics
Grade Taught: 12th Grade
No. of Years Teaching: 21 years
Honors: St. Pius X High School Teacher of the Year 2002; nominated for Golden Apple 2007  
As a twelfth grade educator who works with college-bound seniors at a Catholic high school in Albuquerque, Dan Cappleman says he loves teaching. "It has been a privilege and a blessing to teach at a school where I can also practice and model my faith," he says. "Teaching is actually my second career."
A Proverbial Philosophy
Cappleman says his teaching philosophy could be summed up with one proverb: The teacher opens the door; we enter by ourselves. "I share this saying with my students on day one," Cappleman says. "I tell them I pledge to always do my part – to provide the tools and leadership. But students know they must take responsibility to develop the self-discipline and self-direction that is vital to success in college and beyond."
Cappleman says a typical day in his classroom asks students to take notes, read, quiz their knowledge through essays and tests – in addition to discussion of current events – plus hands-on and experiential learning through problem solving simulations, moot court, student congress and mock trials.
"Demonstrate to students that you love what you are doing, that your presence is no accident, that you care about them as people and want them to grow and succeed," Cappleman adds.
Teachers and Technology
A teacher with 21 years of experience as an educator, Cappleman says his greatest challenges have to do with technology and its influence on today's students. "Technology and social media are distracting students from the importance of the principles in the founding documents," Cappleman says. "Too much misinformation is present on social media. Society as a whole – not just students – spends an ever-increasing amount of their day absorbed in the 'social' aspect of social media.
This distracts us from subjects of vital, lasting importance, including the constitutional principles of the founding documents." "My favorite quote from Chief Justice John Marshall is, 'The peculiar circumstances of the moment may render a measure more or less wise, but cannot render it more or less constitutional,'" he says. However, Cappleman believes there are benefits to technology as well as detriments.
"Technology enhances the teacher's ability to expose students to resources such as primary source documents and activities," he says. "These are positives to student learning and engagement."
An Educator's Best Advice
Cappleman believes technology will also influence future trends for teachers. "Technology will continue to accelerate and it will impact all teaching increasingly, for better or for worse," he says. "But the challenge will remain the same."
Now that Cappleman has spent more than two decades of his time teaching, what advice would he offer to a teacher about to embark on their own teaching career today? "Always be honest with students and walk the talk," Cappleman says. "As I promote the need for good citizens to be informed and vote, I share my voting record so students know I really believe what I'm telling them."
Be clear in your expectations, Cappleman advises. "Follow through, and students will respond positively," he adds. "Show students you love the Republic. They will feel that and want to love it, too."